Remote Expeditions with Big Fish Down Under on Moana III specializes in tailor made adventure fishing charters to remote areas of Princess Charlotte Bay, Cape York Peninsula, Gulf of Carpentaria and Papua New Guinea.

These trips are 100 per cent planned to suit your specific interests, skills or fishing experience and expectations.

We will show you the best of scenery, the best light tackle sportfishing, the best barramundi fishing and reef fishing not only life time of memories to take home of remarkable locations, but also plenty of fish!

We catch unbelievable amounts of Barramundi, Fingermark, Giant Trevally, Mangrove Jacks, King Salmon, Coral Trout, Spanish mackerel, Red Emperor, Yellow and Blue Fin Tuna, Large Mouth Nannygai and Wahoo!

These are all beautiful fish on the menu and we will whip them out of the ocean and straight onto the bbq plate!
Huge Mud Crabs and Large Black Lip Oysters are also plentiful in these parts and we have our fair share on each charter.

Princess Charlotte Bay is 350kms NNW of Cairns on the eastern side of Cape York Peninsula. Being shielded from the south-east trade winds, Princess Charlotte Bay provides an ideal haven for the keen angler and one of the reasons for its popularity.
The area plays host to extensive mangrove river systems, lagoons and offshore coral reefs. The fishing is as varied as the Great Barrier Reef itself with Coral Trout, Red Emperor, Mud Crabs galore, the mighty Barramundi, and larger Mackerel and pelagic fish.

CAPE YORK PENINSULA
GULF OF CARPENTARIA
PRINCESS CHARLOTTE BAY
FAR NORTH QUEENSLAND
PAPUA NEW GUINEA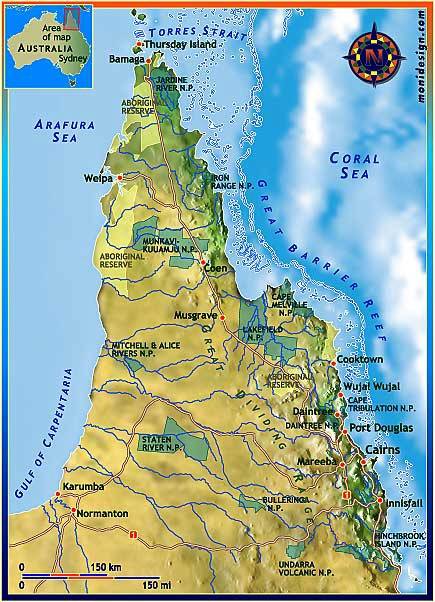 But its not all about fishing…. at your request, we can just cruise, go snorkeling on the Great Barrier Reef, visit beautiful and remote islands in the coral sea or just relax and watch beautiful sunsets over the remote mainland!
You can travel with us from Cairns, Cooktown, Lizard Island and Weipa or fly to meet us by helicopter or float plane.

Expeditions to the Gulf of Carpentaria and Papua New Guinea take quite alot of planning, so please contact us so we can provide you with extensive information needed to put the trips together so you can experience a trip of a lifetime!

Arrangements needs to be made well in advance for all our Remote Fishng Expeditions to Far Northern Australia and beyond.

There really is no better way to experience and fish Australia's far north than on a trip with Moana III and Big Fish Down Under for the ultimate adventure of a lifetime!!!